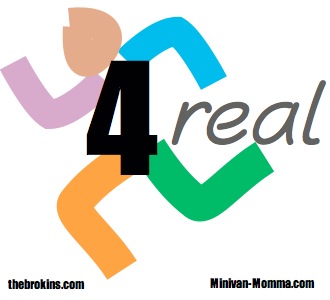 Although I intend to try out for The Biggest Loser. I don't plan on waiting around and hoping to get picked. If there is one thing I have learned over this short and dramatic life of mine it is the fact that
only *I* can write my story.
I am getting better at recognizing emotional eating triggers, environmental triggers, and all the other reasons why I find myself mindlessly and emotionally eating. I discovered a lot through my Project Totus experiment.
I found that scheduled and structured routine exercise is the best way for me. Heather Davis of Minivan Momma and I are introducing a new 4 week long goal!
4Real Fitness Challenge will be an intentional four weeks of 40 min workouts 4 days a week.
Why the 4? Meh... because we were talking about being "for real" women with real bodies and it sounded better than 3real women ;) Heather has dedicated her 4Real Fitness Challenge to preparing for a 5k run. I have dedicated my 4Real Fitness Challenge developing upper body strength. I wanna be able to do a  push up DAMN IT!
So what are you going to do? Will you join our 4Real Fitness Challenge? It can be as easy (and effective) as going for an after dinner walk for 30 mins and 10 mins of stretching) or as intense as 40 laps in a pool.
4Real Fitness Challenge Guidelines
Even if you are sitting and watching TV while bouncing on your yoga ball! That is SOMETHING people. SOME movement is better than NO movement.
For 4 weeks!
Pick a day of the week to blog post, tweet, tumblr, or instagram your progress and experiences. Heather and I will  place posts full of your links for people to check out what we've all be up to!
It is as easy as that! So lets link up, encourage one another, and get moving for the next 4 weeks! Follow me (@Djazzo) and Heather (@Minivanmomma2) to see how we are doing on our fitness challenge goals. Also follow  and attach #4realfitnesschallenge to any tweets so we can easily track everyone who is participating with us!