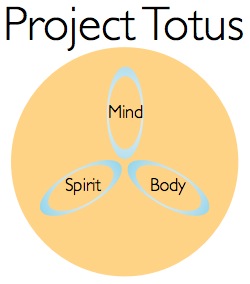 Week two of Project Totus done! This week was, how do I say this with tact... um, a shit storm! (forget tact) I have been exercising regularly and taking time to listen to my body. I have been learning how to cook and eat foods that are nutrient dense and provide what my body needs. I have EVEN done well without a large amount of dairy in my life, though I do admit to eating some bleu cheese... I'll never give that up. NEVER. Jasmine +Bleu Cheese- FA EVER The other day I took Addison for her 18month wellness check up. We skipped into the doctor's office with not a care in the world and left all shakey and stressed out, like one of those hairless chihuahuas. Our doctor said Addison was in the 1% growth percentile and that the tiny milk buds she still has in her breasts (she was a breastfed baby) were not normal. He ordered a plethora of tests for all sorts of things. Along the lines of the tests he ordered were "pituitary issues" "failure to thrive" "hormonal abnormalities". I promptly left the office and headed over to Sonic- because Sonic has the answers when you just don't know how to cope. We've been worried about Addison and I have done a good job in not compulsively eating EVERY day. I had a few slips and would speak to myself, "One moment at a time. You don't have to run from pain. Pain won't destroy you, you'll be okay." After some deep breathing and this mantra I found, astonishingly, that I am okay. I will be okay.
As many of you know, or don't know, my husband is a recovering sex addict. We spent a large part of the latter year trying to decide if I could still be married to the ole chap considering what a relapse and his emotional baggage could mean. Trust and control and frequently used words in our home and I need to learn to do one and not so much of the other. So I had to ask myself, "DO I want to be married knowing what this person has done/could do? Can I trust again? What does trust look like in this case? What is healthy?" All big questions to answer. I think at the end of the day I decided, for now, that I would rather spend my worst days with Garrett than without him. I deeply love that man and it will take time to heal, even a year after full disclosure.
So yeah. Week two done and moving on to week three. It has been rough and enlightening... Garrett is even considering finding a Project Totus for himself. Something about being inspired...
Here is a quote that resonated deeply within me:
Trying to do too much is like walking a tightrope---you're probably going to fall. Imagine that you're building a path instead. It can be as narrow as you can handle and will grow wider or narrower depending on your circumstances." 
                                 -Andrea Nakayama, Functional Nutritionist